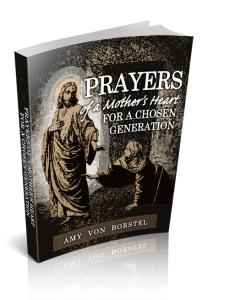 The words I heard coming out of my grandmother's mouth were a shock to me. "You're gonna write a book some day. I really believe God wants you to tell the stories of all He has done in your life." After the shock wore off, I began to ponder her words. Could it really be true? Could I really be a writer?
Then quite a few years later in 2004, I was taking part in a ministry conference at a church several hours away from home. During that long weekend, a deacon I met at the conference looked at me intently and said, "You're going to write a book." I laughed out loud and he looked at me funny. I said, "That's what my grandmother has been telling me for years." I left that conference beginning to believe maybe I would write a book someday.
It's been nine years since the conference and it's surreal to write about my very first eBook, Prayers of a Mother's Heart. It's a book of prayers and a few personal stories written for mothers who are searching for answers for their children's lives. It's for mothers who are desperate, and have nowhere else to turn, but to God. The ultimate goal of the book is to point mothers toward Christ and a life of prayer.
There has been a relentless battle in my mind about being a writer. I am choosing to push the doubt and fear away. I finally believe God has called me to do this.
Am I nervous? Totally!
But I am pressing forward and finalizing the details about my eBook to be published on Amazon.com. I'll be posting about the release date in the weeks ahead.
I'm stepping out in faith to write for Christ.
If you would like to be a part of my 'Support Team' and receive a complimentary copy of my eBook once it's finalized, please contact me by October 15th through e-mail: amy@liveabundantlynow.com. The only thing I'll ask in return is that you would leave a review on Amazon.com once it's released.
I'm linking up for Five Minute Friday where Lisa Jo Baker and other awesome people write for five minutes flat with no self critiquing or no striving for perfection. This week's prompt is: "Write." I wrote for about ten minutes today.