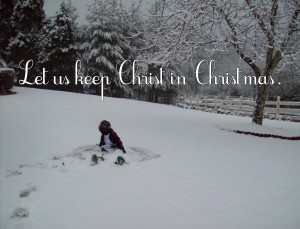 The very essence of Christ is peace, yet we often let the celebration of His birth be filled with stress and chaos. I remember a time many years ago in my twenties when I was running around like a chicken with its head cut off during the holidays and ended up with a pounding headache and so much stress that I barely enjoyed Christmas. That year, I began rethinking my priorities and started making big changes in the way I celebrated Christ's birth. I put together a list of some ways to truly enjoy the holiday season.
Let Peace Rule the Holidays
To keep from getting swept away in the whirlwind of holiday festivities, we can first set our hearts and our minds on the real purpose of the season. We are celebrating the birth of our Savior—the Lord of peace who gives us His peace at all times and in every way (2 Thessalonians 3:16). His peace can rule in our hearts and in our holidays as we pray daily and ask Him to fill us with His Spirit. In Luke 11:13, it says, "How much more will your Father in heaven give the Holy Spirit to those who ask Him?" Simply asking Christ to be with us is all it takes to live and walk in His peace during the holidays and during all our days throughout the year.
Make a List of Priorities
If we make a list of what is most important for us as individuals and then stick to those things, we won't fall into the trap of getting overextended. For me personally, my priorities are maintaining a peaceful household, spending time with my family, and carrying on a few Christmas traditions like having an Advent calendar and decorating a gingerbread house.
Don't Try to Keep Up With the Jones Family

It can be so easy to compare ourselves to others and what they're doing. Just because someone else has the greatest light display in the whole town, doesn't mean we need to have one too. I actually love and enjoy those beautiful light displays. But I know that with having a full life as a mom, I don't have time to place an award-winning light display on my home. For me, decorating for Christmas is low on my priority list. I used to spend hours and hours decorating my home. Now, I simply put up a Christmas tree and a few other simple decorations. Decorating in a simple way can be beautiful, yet saves us a great deal of time and energy. For simple decorating, I love the ChristWreath.
As followers of Christ, our identities are in Him, not in what we own or what we accomplish. If we are tempted to play the comparison game, we can pray for contentment, and God will grant us our desires, so that we can maintain our true priorities.
Keep the Gift-giving Simple
Giving at Christmas time represents who our Father in heaven is. He is the Giver and we want to carry out the nature of our heavenly Father. However, we don't need to stress over it. Every year, I am tempted to worry. Thoughts will fill my mind as I begin shopping. Will I find the perfect gift for every family member? Through prayer, I resist those temptations of worry.
At the times when we don't have the finances for gift-giving, we can give homemade gifts, write love letters to our loved ones, give our time and talents…on and on the list goes. There are countless ways we can give without stress. In our family, we have decided to minimize our giving to each other and give instead to people who are truly in need.
The Spirit of Christmas is with us always so we can spread our gift-giving throughout the year. This helps us to focus on the birthdays of our loved ones, rather than making Christmas the only time to give.

Do you have any tips for keeping Christ the focus of Christmas?
I pray that your holidays will be happy. May you have a peaceful and stress-free Christmas season.
The photograph was taken in my neighbor's yard after a beautiful snowfall several years ago.