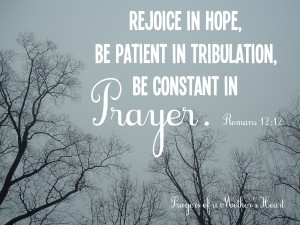 Sometimes it takes darkness to realize how much we need prayer in our lives. I learned this lesson during the lowest of lows in my own life.
It was springtime in 1997. It should've been a happy season for me as I had recently given birth to my second child, a son. But instead of feeling joy, I had an overwhelming sense of despair and a case of postpartum depression that I couldn't shake off without a true, divine intervention. I was in a deep pit—a place of desperation. I remember wanting to die.
It seemed that everything good in my life had been lost. My marriage was broken, our finances were a complete mess, and my seven-year-old daughter was feeling the stress in our home. The weight of all my struggles caused hopelessness to fill my soul. Because of a busy life of church activities, working tirelessly, and striving to please people, my prayers had become last resort petitions to God instead of daily communion with Him. I felt as though I was surrounded by a thick, dark cloud. My personal journal revealed the desperation in my soul.
May 22, 1997: God, do You hate me? I feel so helpless. Please show me Your love. Please make a way for me out of this.
Deep in my heart, I knew the only answer for me was the power of the resurrected Christ to pull me up out of my desperation and awaken my soul with His healing light. Those desperate prayers were the seeds that eventually grew into a more disciplined life of prayer.
Visit crunchylibrarian.com to read the rest of the story. I'm so honored to have a guest post over at Amy Dane's awesome blog!