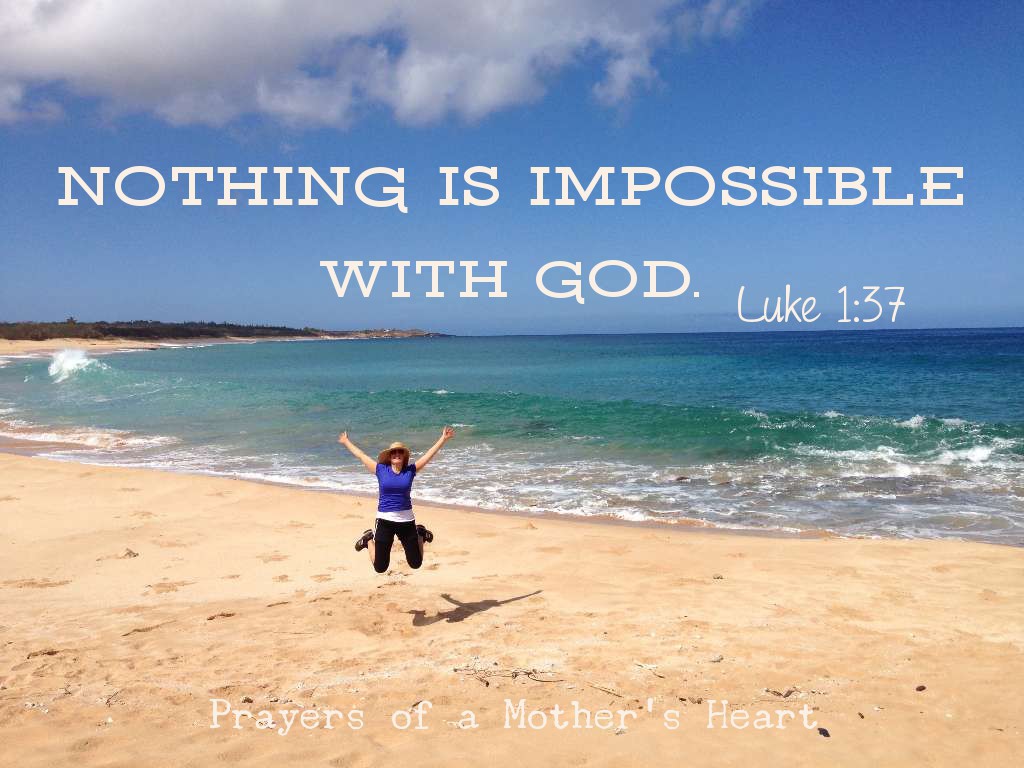 Two decades ago, my prayers seemed to be last resort petitions and my relationship with Christ had become complacent due mostly to an over-committed lifestyle. I was a thirty-one-year-old mom when I plummeted to the lowest point of my life.
While trying to be some sort of superwoman, I stayed up all hours of the night making homemade tiaras and princess wands for my daughter's seventh birthday party. With my people-pleasing skills, it appeared that I had it all together. In reality, I was terrified and carrying the weight of many problems on my shoulders.
Shortly after my daughter's extravagant birthday party, my self-sufficient strength imploded. Hopeless words in my journal from that dark season revealed my depressed state.
I vividly remember the night when I sat at my dining room table and began sobbing. In a puddle of tears, I thought about my broken marriage, our financial struggles, and how all the stress was affecting my daughter, Christa. With another child soon to be born, it all seemed like more than I could handle.
In my desperation, I requested prayer from a counselor at church and turned to my loved ones for encouragement. My mother and grandmother prayed for me and encouraged me to stand firm in my faith. With their encouragement, I took baby steps toward a consistent prayer life and I eventually began praying and meditating on Scriptures persistently.
With a renewed confidence in Christ, I realized that my need to forgive some offenses was hindering my closeness with Him. I was reminded that the Bible says, "Whenever you stand praying, forgive, if you have anything against anyone, so that your Father who is in heaven will also forgive you your transgressions "(Mark 11:25, New American Standard Bible).
After choosing forgiveness, my hopeless feelings didn't linger very long. I gave birth to a baby boy, and by the time my son, Thomas, was five months old, I was feeling like a new person.
As the darkness dissipated, I realized the prayers of my mother and grandmother had carried me through my immature years. I truly believe I wouldn't have made it through such a tumultuous season without their prayers.
The dark season I experienced during my thirties was a catalyst for me to renew my spirit and turn to Christ wholeheartedly. Through prayer, I began to see the unfailing love and never-ending faithfulness of God.
With a rekindled prayer life, I prayed and waited for Jesus to restore the broken pieces of my heart. He began restoring my life step by step, and filled my soul with peace and joy. He healed my hurting marriage and restored our finances by leading my husband to a stable career.
During the hardships, I learned to pray passionately for my children in the same way my mother and grandmother prayed for me. As I released Christa and Thomas to Christ through prayer, I watched them grow into thriving adults.
A life without prayer is like a sailboat without sails. Without prayer, we get disconnected from Christ's guiding voice, and without His guidance, we end up in desperate places. Desperation drives us to our knees more than anything else.
It's interesting how, as humans, we need adversity to push us toward God and prayer. When things are going well, we sometimes think we don't need to pray. Perhaps we need to pray the most during our best days.
Living a life of prayer connects us to God so that we can hear His still, small voice and live peacefully in the midst of life's challenges.
Are you in a dark season? Don't lose heart. Trust that Christ's love for you is deeper than you can imagine (Ephesians 3: 17-18). Knowing Christ's love for you is necessary to pray with faith. Simple, faith-filled prayers will move God's heart to do what seems impossible.
Jesus teaches us to never give up praying (Luke 18: 1-8). If we persistently pray with pure motives and forgiving hearts, we will not only see Christ's power working in the most amazing ways, but most importantly, we will continue growing closer to His heart. As we fix our eyes on Christ, prayer becomes as natural as breathing and we become transformed into God's image in the process of waiting for His good plans to be established in our lives.
If you would like more encouragement for living a life of prayer download a FREE copy of the Prayers of a Mother's Heart eBook through Monday, October 3rd.