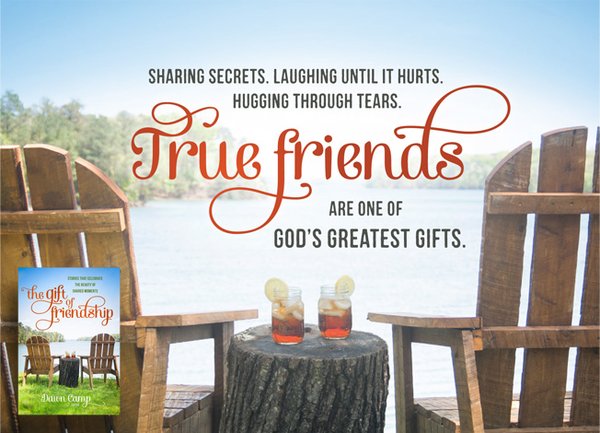 Friendship is one of the greatest gifts in life. As a woman who cherishes my friends, I was so excited about reading Dawn Camp's new book: The Gift of Friendship. I absolutely loved it because it reminded me of the special women that God chose for me to be close friends with.
The Gift of Friendship is a book filled with heartwarming, true stories from various Christian writers. It's an uplifting book that left me feeling very grateful for the genuine friends in my life.
As I was reading the touching stories, I was reminded of how vital it is to have meaningful friendships. I thought about the definition of a friend that I wrote a few years ago.
What is a friend?
A friend is one who believes in others more than she believes in herself.
She is one who allows her friends to put away all pretenses and lets them be who God made them to be.
She lets others share their weaknesses without being afraid of being judged or lectured.
She celebrates the strengths of those closest to her and brings out the best in them.
She hurts when her friends hurt and cheers when her friends are sailing through life.
She isn't intimidated by the successes of her friends, but finds abundant joy in seeing every one of them succeed.
A true friend loves at all times and her love never, ever fails.
My definition of a friend comes from my experiences with my own beloved friends.
The Gift of Friendship does an exceptional job of defining and displaying the beauty found in deep friendship. Each story is unique, nurturing, and easy to read. I think it would be a great book to give as a gift to a treasured friend and I really believe every woman who values friendship will love this book. Be sure to grab yourself a copy here.
"A friend is always loyal, and a brother is born to help in time of need." — Proverbs 17:17 (NLT)