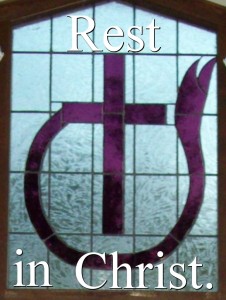 The rain was gently and slowly coming down. I could hear the pitter-patter on the roof over my head as I knelt down before the Lord. I was quiet and still. There was no sound around me—only the gentle, soothing sound of the raindrops. It reminded me of the softness of Christ's Spirit, His soothing love, and gentleness.
I asked the Lord to pour out His Spirit all over me like rain. He did. A soft, gentle love came rushing over me. I was frozen in the moment. His Spirit was holding me tight. I knew He was there with me. Suddenly I knew the vastness of His being. I realized how small I am in his presence. I am nothing without Him. He is everything to me in this dark world.
Tears came over me as I thought about the many times I have bowed before Him with selfish motives. Many times I had made it about me. This was very different. It was all about Him, His power, and His strength. His love consumed me. I better understood what it means to die to myself.
In those moments, my needs were far from my thoughts. I was in the midst of the Famous One. I was in awe. I was overcome by Him. I wanted time to stop. I didn't want to move. In His presence, I was speechless.
Lord, You are beautiful and holy and perfect. Thank You for Your never-ending love and grace. Let us rest in Your presence this Christmas season and always. I pray in Your name, Christ. Amen.
The Lord replied, "My presence will go with you, and I will give you rest." Exodus 33:14 (NIV)
This post was originally written in 2009.