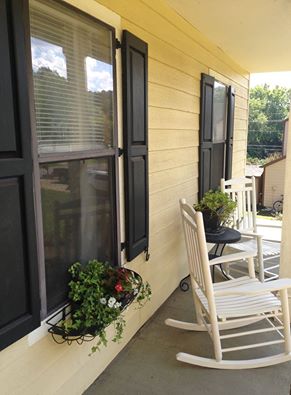 It was in the nineties when my husband, Michael, and I caught the "Keeping up with the Jones Family" syndrome. We got married in 1985, shortly before I turned twenty. About a year later we bought a new, three bedroom house. We had very little stuff and it almost felt empty after moving in.
Three and a half years later, we had our first child. Our house was plenty big enough, but with all our new purchases and baby paraphernalia, the closets were beginning to overflow. We thought the answer was a bigger house. Driving through neighborhoods to look at big houses became our focus. We were excited at the thought of having a four bedroom house with a full basement. As our dream grew larger in our minds, the reality of our budget revealed to us that we couldn't really afford a big mortgage. Did we really need a bigger house? Or could it be that we just needed to have less stuff? 

After praying, we decided we would stay in our house. However, underneath this decision there was still the desire to have something bigger and nicer. During this same season of soul searching, I decided to quit a job I'd been working at for eight years. It wasn't just any job. This was a job with a fortune 500 company that had huge potential for promotion and growth. Much of my identity and self-worth was tied to the status of working for such a well-known, prestigious company.
It was one of the hardest decisions of my life. Through tears I told my boss, Barbara, that I needed to leave the company to be home with my daughter.
Barbara reassured me with her words. "You will always have an open invitation to come back to work, Amy."
As many times as I've been tempted to return to that job, deep in my heart I've known that it's not where I belong. Simplicity is what I desired more.  A career was no longer compatible with the life I was dreaming of. My dream was to have a simple life with plenty of quality time for the people I love the most.
As the years passed by and after the birth of my second child, I learned more about simple living. I read an article in 1997, which was titled, "Tilling in the Garden of Voluntary Simplicity." After reading this article, my desire to have more was replaced completely with a desire to have less. It no longer appealed to me to have a bigger house.
I began to clear out clutter. I literally took van loads of stuff to the thrift store year after year. Even though I was happy about clearing out the clutter, I was still bothered by what others thought of me. There was a constant reminder that we were abnormal as I looked at the lavish lifestyles of those around us.
Because of our own choices, we had a relatively small income and our finances were painfully lacking at times due to four job lay-offs for my husband. Yet, because of our simple lifestyle and God's help we made it through every job loss.
After much prayer and seeking Christ's will, Michael returned to college and graduated in 2010. He has an awesome job now in the medical diagnostics field.
Three decades later, our house we bought as newlyweds is truly our home that could never be replaced. We have done some renovations and we're not planning to ever sell it. We're living our simple living dream. Our house isn't too small or too big for us. It's just right. And I've actually begun to stop caring about what other people think. I've decided that having less really is one of the keys to having more joy.
Our ultimate dream is to help God's kingdom be established by financing orphanages in Africa and around the world and we hope to own a retreat home in the mountains of North Georgia. We want to use our current house as a place for families in need of temporary housing. Until the time is right for those dreams to come to fruition, I will be content living a simple life where I'm planted, hoping to inspire others to do the same.
If you're interested in learning more about simple living, visit lovingsimpleliving.com, the website of author, Lorilee Lippincott.  She inspires me greatly in my journey of simplicity, and I feel certain you'll be inspired too.
In the photo above, you can see our simple yellow house.
I linked up at janinehuldie.com  and shared 'My Simple Life' story. Check out the fun posts at Finish the Sentence Friday.