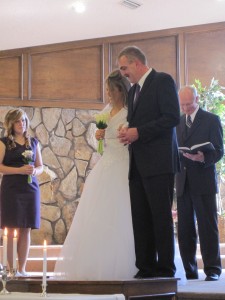 That's not what I am saying…I passionately defend myself to my husband as we try to hear each others' hearts. We've been married for nearly twenty-nine years yet we still have trouble communicating at times. I believe God created men and women with opposite natures just so we would have to rely on Him in our commitment to each other. There is no other relationship that tests our ability to love unconditionally than the marriage.
Real love is when we are willing to sacrifice our own needs in order to see that our spouse's needs are met first. My need as a woman to be heard and understood should be much less important to me than it is for me to respect my husband's desires.
I am challenged daily to love purely with no selfish motives, but with the help of Christ and through His strength I know that I can press on in loving my husband sacrificially.
"Love is patient, love is kind. It does not envy, it does not boast, it is not proud.  It does not dishonor others, it is not self-seeking, it is not easily angered, it keeps no record of wrongs.  Love does not delight in evil but rejoices with the truth.  It always protects, always trusts, always hopes, always perseveres."
— 1 Corinthians 13: 4-8 (New International Version)
I'm linking up for Five Minute Friday where Lisa Jo Baker and other awesome people write for five minutes flat with no self critiquing or no striving for perfection. This week's prompt is: "Willing."
The photo was taken the day my husband and I renewed our wedding vows.