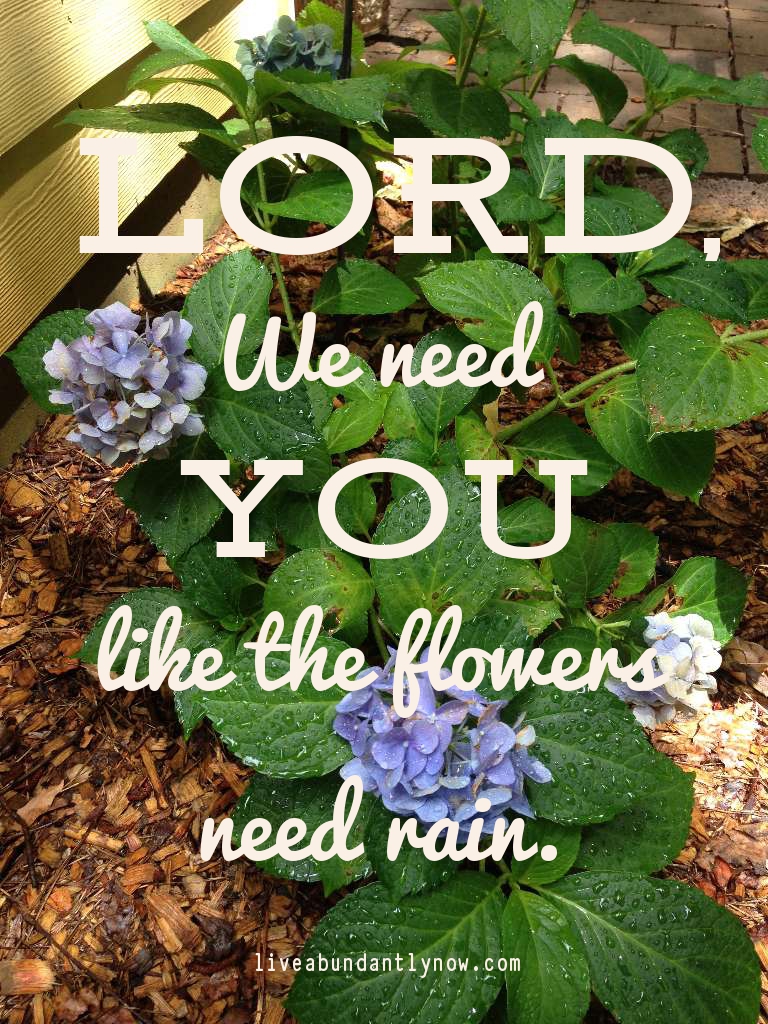 A couple of days ago while I was praying in the quiet of the morning, I pondered the needs of my loved ones and the problems in the world at large. As I was lifting up my petitions to the Lord in prayer, my mind shifted to the lack of rain in our area. I remembered the dried-up field of crops I saw the day before while driving through North Georgia. It had been weeks since it rained at my house.
My unenthusiastic prayers for rain in the previous days had gone unanswered, but fervor rose up in my spirit and I began to beg the Lord for abundant rain.
Lord, we need rain so badly. Please, please let it rain today.
Something had shifted in my mind while I was praying. I truly believed it would rain that day. About thirty minutes later—while I was lying still and praying—a big boom of thunder seemed to come out of nowhere. I jumped up to look out the window and saw that it was pouring rain.
I was in awe and rejoicing in my soul over what had happened. To the skeptic, it would appear to be a coincidence, but to a person of faith it was an answered prayer.
I have experienced countless answered prayers, but this was a phenomenon I don't ever remember experiencing. God was encouraging me in an extraordinary way by bringing rain in the midst of my prayer time.
I was reminded of what Christ said about prayer and faith (Matthew 21:21-22).
"Truly I say to you, if you have faith and do not doubt, you will not only do what was done to the fig tree, but even if you say to this mountain, 'Be taken up and cast into the sea,' it will happen. "And all things you ask in prayer, believing, you will receive."

In those moments, I thought about the fact that we need God for the very breath we breathe and for the food that sustains us. If we have no rain, things begin to die and there is no life.
In our human strength, it's easy to believe we can sail through life without true dependence on our Creator. The moment we realize we are utterly dependent on God, we begin to pray big prayers and see His power working in our lives in the most amazing ways.
Father,
Thank You for caring about every single detail in our lives. Thank You for sending rain when we need it. Thank You for hearing our prayers and answering them in miraculous ways. Teach us to depend on You more every day. Let us trust You with every ounce of our being. Let us walk in faith every moment of every day. I pray in Christ's name. Amen.
"I will send you rain in its season, and the ground will yield its crops and the trees their fruit."

 "You sent abundant rain, O God, to refresh the weary land."
Photo Credit: My husband captured the picture of my hydrangea flowers shortly after the beautiful rain came on Tuesday morning.