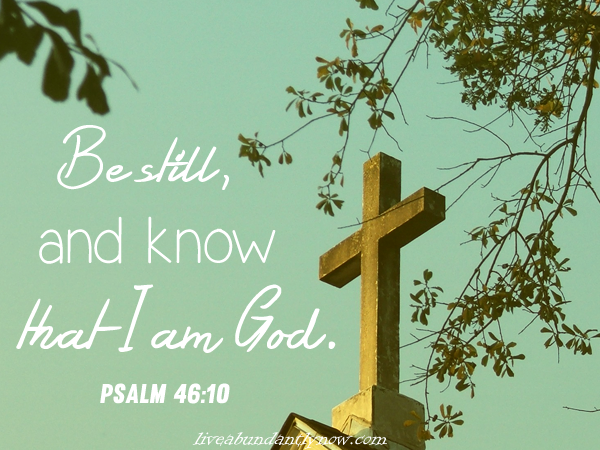 Without hearing God's voice or knowing His direction, life would be like a train running free without an engineer. My life looked like a train wreck during a season of busyness that pulled me away from a life of prayer. After desperation set in, I got back on the path with God; and things in my life began turning around.
In Proverbs 3: 5 and 6, it says, "Trust God from the bottom of your heart; don't try to figure out everything on your own. Listen for God's voice in everything you do, everywhere you go; He's the one who will keep you on track."
There is no better shepherd than Christ. He directs our paths perfectly, leading us to the destinies He planned for us before we were born. When we are on the path with Him, life becomes the journey we were meant to live. I've had to learn this the hard way. If only my mistakes will help another soul stay on the path with Jesus, it will be worth all the times I drifted off track with God.
I'm not talking about religious rituals here. I am talking about being still in the presence of God and letting His voice lead every step. This is the path that leads to the abundant life Jesus promised us.
In my eBook, I shared some of the struggles that arose when I stopped seeking God wholeheartedly.  In the following excerpt, you will see how my life got off track during a season when being still and prayer had become less of a priority in my life.
The book excerpt begins here.
As a child, it's easier to admit weakness and bow down to God. But there's something that happens as we grow older: our hearts change, and our way of thinking changes. It becomes harder to enter into the place of total submission to God and it seems natural to begin seeking out other ways to find comfort. This is what happened to me. By the time I was eighteen years old, I was going to my secret place with God less and less. Yet I still desired to be close to Him.
This same year, I met and fell in love with a young man who loved God. Michael and I got married when I was nineteen with the hopes and dreams of following Christ together. I wrote a prayer in 1985, the year I got married, that truly reveals the desire in my heart to live for Christ.
Dear Lord,
I need You so badly. It seems like the only time I'm desperately crying out to You is at the lowest times in my life. And I'm sorry for that. I know You want me to learn to depend on You like an infant with its mother. But oh, dear God, it's so hard. I always think I can do it on my own. Please help me and make me what You want me to be—make me the kind of friend, daughter, and wife You want me to be.
Please give me the desire in my heart to pray more and read Your Word more. Please fill me with Your Spirit and really change my heart. Make me new inside. I know You love me more than I could ever imagine. And I couldn't live without Your love. Thank You for loving me no matter what I do to reject You. I pray in Your name. Amen.
During the twelve years after I had written that prayer, I settled comfortably into my marriage and became complacent in my spiritual journey. I was consumed with other things—allowing my marriage to come before God, working a corporate job for a number of years, and volunteering many hours in our church. These things were all distracting me from the passionate desire I once had to wholeheartedly follow Christ. Michael and I were going through all the Christian motions by tithing and attending as many church activities as we could fit into our already full schedule. From a religious standpoint, we were doing everything right as a young, Christian couple. The most vital thing was missing though. My passion toward God had been replaced with a shallow faith. The love relationship I once had with Him was a distant memory. And it all culminated into a depressed state when my life seemed hopeless.
After that Wednesday night when I finally broke down, my eyes were opened and I could see what I had lost with the Lord. I realized my deep need for Him, and I began writing prayers more regularly in my journal. These entries reveal the desperation in my heart and spirit.
February 11, 1997
Lord, I'm really frustrated. I need to go to sleep, but I just keep thinking about everything that's going on in my life. Please bring me rest and peace.
February 12, 1997
Lord, I really need You. It's 3:15 a.m. and I woke up feeling uptight. I need Your peace. Now Christa is awake and she said she's afraid. Please make her feel comfortable and able to get some rest. Please give me rest. Please help me to feel peace and comfort beyond all understanding. I know I need to trust You.
February 28, 1997
Lord, I love You and I give all my burdens to You. I surrender all to You. Please give me peace in my mind and let this struggle end.
March 5, 1997
Lord, I'm waiting for some relief. Why can't I relax and sleep well? Are You hearing me? Please keep me well and give me the rest I need. I'm willing to do whatever it is that You want me to do. Lord, please hear my prayers.
May 22, 1997
God, do You hate me? I feel so helpless. Please show me Your love. Please make a way for me out of this.
In those desperate moments, I began to pray like I never had before. Desperation drives us to our knees like nothing else. While praying, God revealed to me that I needed to forgive my husband for some things I hadn't been able to let go of. The words of a Scripture verse came to mind where Peter asked Jesus, "Lord, how often shall my brother sin against me and I forgive him? Up to seven times?" Jesus said to him, "I do not say to you up to seven times, but up to seventy times seven" (Matthew 18:21–22). Over and over, the Lord kept bringing up these Scripture verses to me, but I couldn't locate the verses in my Bible, even though they were some of my favorite Scriptures and very familiar to me. I wrote in my journal at the beginning of February how my inability to sleep was linked with my need to forgive. It felt as though I was doing everything in my power to choose forgiveness.
About a month later, I was still struggling to sleep so I went to the altar at my church to ask for prayer. A team of prayer counselors was available to stay after the worship service for those in need of a one-on-one prayer time. A sweet woman named Cindy walked over to me and began speaking softly, saying, "Would you like to come to the counseling room for more prayer?" I'm sure she could see the sadness in my eyes.
"Yes," I said, with a pitiful tone in my voice.
Cindy and I walked into a room, we sat down together, and she began asking me questions like: "What's going on in your life?" I was in such a place of turmoil that I could only speak a few words.
I said, "My daughter and I are having trouble sleeping." And that was all I felt like saying. She prayed with me, told me that she was teaching a Sunday school class about forgiveness, and handed me a piece of paper with some Scriptures she wanted me to look up when I had the chance.
Even though nothing earth-shaking seemed to happen in that moment of praying with Cindy, my spirit felt a difference. After I returned home, I opened my Bible to the Scriptures she had written down for me. As my eyes focused onto the words, I began to weep. It was Matthew 18:21–35. She had written down the exact Scriptures the Lord had already been bringing up in my prayer time. That was a pivotal moment for me and I saw the realness of Jesus in a way I had never seen Him before in my life. I couldn't deny that the Lord was working mightily in this situation, especially since this happened in a church where the gifts of the Spirit were not prevalent or widely accepted. I knew that only God Himself could orchestrate it for someone I had never met to give me a word of knowledge straight from the heart of Christ.
Two days later, I received a note of encouragement from Cindy.
Amy,
I was praying for you and your family this morning and Psalm 4:8 is very encouraging… "In peace I will both lie down and sleep, for You alone, O Lord, make me to dwell in safety." May God grant rest and peace to you and your daughter. Stand firm in your faith. Keep praying until God answers. Wait on the Lord!
Love in Christ,
Cindy A.
I wept again as I read her words—I knew it was a direct message of hope from God for me. The very thing I had prayed for and written in my prayer journal in the weeks prior to meeting Cindy was in her note. "May God grant 'rest and peace' to you…" This was a sign to me that God had heard my prayers and that He would answer them. Until this day, I have kept that note tucked inside my Bible as a reminder of where I once was and how Christ redeemed my broken past.
I never saw Cindy again after our prayer time together—mainly because the church has over 14,000 members. I found her address in the church directory and wrote her a long letter thanking her for the compassion she had showed to me, and I shared how her words had strengthened my faith. It's amazing how God can use a complete stranger in such a powerful way to bring lifelong positive effects.
That was the beginning of a new kind of faith for me. The closeness I had felt to Christ during my youth was restored as I began seeking Him more. God rekindled the flame I had as a teenage girl. He restored me to an innocent girl—one who is fully dependent on her Creator. I returned to the place I was meant to be. I returned to my first love.
My problems had not disappeared, but I began to see God working in the midst of the struggles. A defining moment for me was on a day that I heard a still, small voice in my spirit for the first time in such a distinct way. Holy Spirit goose bumps rose all over my arms as I heard God saying, "I created the universe. I can certainly fix the problems in your life." I knew without a shadow of doubt that the voice I heard in my heart was God. In a miraculous way, my anxiety left that day as I focused on God's Word and continued to pray.
My close friend Bonnie encouraged me to listen to worship music continually and to meditate on Bible verses every day. Bonnie's words of encouragement were a reminder of the faith steps my mother and grandmother had already taught me. With the encouragement of my loved ones and by communing with Christ, I was able to begin walking in forgiveness toward my husband. The walls that were separating our hearts began to come down brick by brick. It was the beginning of a deep healing in our marriage that ultimately took years to complete. Our marriage is a true miracle. It's not perfect—no marriage is flawless. But because of the redemptive power in the blood of Christ, we love and forgive each other daily, so that we may remain close to God and to one another.
In that tumultuous season, we came to realize that prayer was the only thing that could permanently change our lives. We began to pray together as a family every night. One by one, Michael, Christa, and I would take turns praying out loud with each other. It wasn't long before the debilitating darkness began to dissipate. A few weeks after my son Thomas was born, Christa could sleep in her own bed and not feel panicked without me by her side. By the time Thomas was eight months old, I had gone from physical and mental exhaustion to training for and running my first half-marathon race. The difference prayer had made truly was miraculous.
That was a small beginning for me in the discipline of prayer. It's amazing how, as humans, we need adversity to push us toward God and prayer. It seems that when things are going well, we think we don't need to pray. Perhaps that's when we need to pray the most.
I've discovered that a life without prayer is like taking a sailboat out to sea and dismantling the sails. Prayer is what brings God's power into full sail in our lives. Even though I haven't always been faithful to pray, the Lord has been faithful to guide me and show me the need for prayer in beautiful and mysterious ways.
This is the end of the book excerpt.
Every time I think about my past, I am reminded that a life without prayer is a life without real peace.
Prayer connects us to God so that we can hear His still, small voice in our hearts. His voice soothes. His voice comforts. His voice is the anchor of our souls.
Lord,
Let us be drawn to Your heart each day. Cleanse our hearts of any iniquities that could be hindering us from hearing Your voice clearly. Let us walk daily in humility and with kindness toward all people. Let us be still and know that You are God and that You have good plans for all your children. I pray in Your name, Christ. Amen.
The Proverbs Scripture reference was taken from The Message.