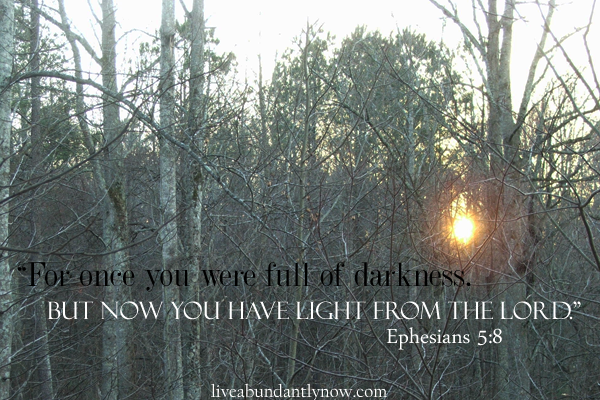 I was gazing out the window noticing the winter weather as I was writing notes on Christmas cards. The wintry day caught my attention with the bareness of the trees and lack of sunlight. It was noticeably monotone and drab in my back yard where it is usually vibrant with life and color.
I noticed the stark contrast between the drabness outside and the joy and brightness in my soul. As I pondered that distinct difference, words began flooding into my spirit. The thoughts of the wintry day reminded me of what life would be like without Christ.
Apart from Christ, we would be destined for a wintry life.
As we celebrate Christ's birth this week, let us all remember why He was born. He came to give new life.
His love is a gift that breaks into the dark places of the soul and brings forth light. He strengthens us when we're weak. He fills us with love when we're loveless. He soothes our sorrows when we're mourning. He heals the heart when it's broken. He restores the broken things and makes beauty out of our mistakes.
He is the redeemer of every painful trial we'll ever face.
God brought forth Christ the Messiah for all people, so that we could live abundantly in hope and peace no matter how dark it becomes in the world. His light overcomes all darkness. The love of Christ is the best Christmas gift we'll ever receive.
Lord Jesus,
Let us be keenly aware of Your love and light this Christmas. Let us rejoice over the gifts You have given us through a loving relationship with You. Amen.
 "For once you were full of darkness, but now you have light from the Lord. So live as people of light!" —Ephesians 5:8