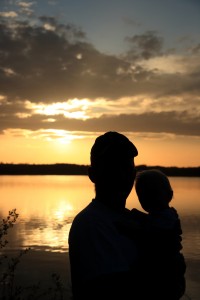 I saw something recently that caught my attention and made me think of God's perfect love toward us. I was driving home from doing errands. As I was making a right turn, I saw a motorcycle and a bicycle turn in front of me. At first, it struck me as really odd because the cyclist was riding so closely behind the motorcycle. But then I could see clearly what they were doing. It was a father and a daughter riding together.
The man looked to be in his forties or fifties. He was riding his motorcycle directly in front of the girl. They were so close together that it looked as though they were touching each other. The girl looked about sixteen. She had on a biker's shirt similar to what the professionals wear. She was obviously training for a serious race, and her dad was there to help her train. It was like her father was guiding her and protecting her along the way. As I passed by, the dad was turning around to look at his daughter to make sure she was okay.
While driving by them, emotions rose up in my spirit. I saw a picture of how God loves and protects us.
I could hear God's still, small voice speaking to me in my heart.
He whispered to me so gently. "I love you with an unfailing love like a father loves His child. I go before you to mark the path that is best for you. Stay on the path with Me, and I will keep you in the shadow of My wings."

I had tears of joy as I drove home thinking about such a beautiful picture of God's love for us. I realized in that moment of watching the father guiding his daughter on her bike, how we don't need to move ahead of God, outside of His protective shelter.
Isn't that amazing to think about? God our Father is continually with us and sheltering us as long as we don't try to sneak away from His loving guidance. The Bible says God is gracious and compassionate, slow to anger and abounding in love, and He relents from sending calamity (Joel 2:13). As we stay close to God, He will keep us from harm, and make us sing for joy all our days on earth.
I pray that you will experience the immeasurable love of God today. May His peace rest upon you, and may you always know you are His beloved daughter or son. Most of all, I pray you will bow before Him and be satisfied in His unfailing love.
"But I trust in your unfailing love. I will rejoice because you have rescued me." Psalm 13:5  (NLT)
"How priceless is your unfailing love, O God! People take refuge in the shadow of your wings." Psalm 36:7 (NIV)

"Satisfy us in the morning with your unfailing love, that we may sing for joy and be glad all our days." Psalm 90:14 (NIV)
"Let the morning bring me word of your unfailing love, for I have put my trust in you. Show me the way I should go, for to you I lift up my soul." Psalm 143:8 (NIV)
"In your unfailing love, silence my enemies; destroy all my foes, for I am your servant." Psalm 143:12 (NIV)