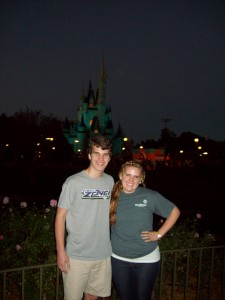 My husband started crying first the day we dropped off my daughter Christa at college. The sight of my manly man crying sent me over the edge and the tears began flowing out of my eyes. Before our goodbyes were over, there was a group of us standing there in a puddle of tears while standing in the school's dining hall.
On the drive home that day, through bittersweet tears, I thought about how nice it would be to turn back time and go back to the days when life was chaotic with the dirty footprints that were tracked all over the carpet and the neighborhood kids gathering at our house to play and the piles of laundry that never seemed to go away completely.
It wasn't easy, but it was worth all the chaos. Those years of having little whining voices and toys strewn everywhere will be forever etched on my heart as cherished, joyous, glorious memories.
Now my daughter is a college graduate and her brother is a junior in high school. Things are quieter. The laundry is easier to manage. Life is not nearly as hectic. It seems like yesterday those two bundles of joy arrived.  I am grateful that I left the corporate world and poured myself into motherhood. The rewards are greater than any other job on Earth.
To all the mothers of younger children, my words of wisdom would be: Enjoy the laundry. Savor every messy moment. It will all be over in an instant, and you'll be saying the same thing I am saying today, "How did all those years go by so quickly?"
I'm linking up for Five Minute Friday where Lisa Jo Baker and other awesome people write for five minutes flat with no self critiquing or no striving for perfection. This week's prompt is: "Laundry."  Forgive me for going over the time limit again by about ten minutes.