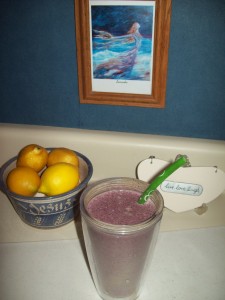 As a forty-eight-year-old woman with a full life, drinking healthy smoothies has greatly increased my energy level. Dragging my body through the day is a distant memory since I began making homemade energy smoothies. I drink a smoothie most every morning and I feel the best on the days that I make time to drink another variation of this smoothie later in the day.
I have tried several different kinds of blenders. The Nutra-Bullet is my favorite blender for making smoothies. With its unique cyclonic action, it makes the smoothest energy drinks. There are some precautions necessary though. The Nutra-Bullet cup should only be filled to the 'MIX' line when using it and the motor shouldn't be used for more than a minute at a time. Another thing I love about the Nutra-Bullet is that it's easy to travel with because of its compact size.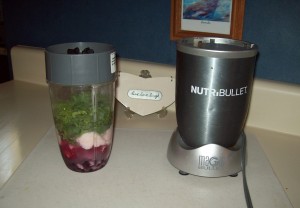 Energy Smoothie Recipe
1 cup almond milk, rice milk, water, or juice
5 to 6 ounces vanilla Greek yogurt (place the cartons in the freezer and let freeze; substitute with any berry flavored yogurt)
1 cup chopped kale or spinach or red chard (it's best to use a different vegetable each day in order to keep a balanced diet)
1/4 cup frozen strawberries (substitute with any kind of fruit)
1/4 cup frozen blueberries or blackberries or raspberries
2 tablespoons of vanilla protein powder (optional)
Combine the leafy green vegetable, fruit, yogurt, and liquid in a blender; blend until smooth, but for no more than sixty seconds at a time. If the mixture is too thick, add a little more liquid to get the desired consistency. Add a little agave nectar if more sweetness is desired. Feel free to substitute any of the fruits with those you love best. I prefer to use Greek yogurt that is sweetened with honey, but today I used Yoplait strawberry yogurt.
It may sound a little questionable to put kale and spinach in a smoothie, but this recipe tastes great. The fact that my sixteen-year-old son drinks one of these every day speaks volumes about the taste. If I forget to make one for him, he always reminds me, because it helps him with his daily work-outs and sporting activities.
If you try this recipe, please let me know how you like it. I pray that you will live a healthy life by nurturing your body, mind, and spirit in 2014.
Note: I am not affiliated with Nutra-Bullet, nor do I know anyone who is. I have expressed my personal experiences with their products only for helping to improve the health of others.