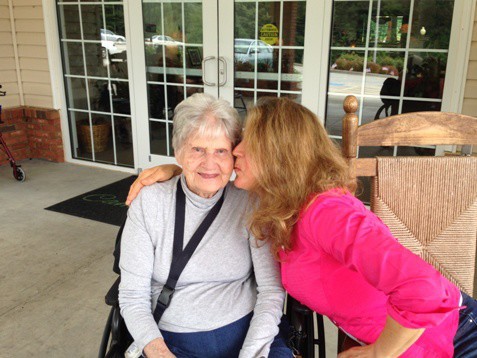 My beloved grandmother, Mema, has woven love through every fiber of my being since I was born. Shortly, she will be leaving her earth suit to go to her eternal home, and that love will remain deeply embedded in my soul forever and ever. Nine days ago, she moved into a hospice facility to spend her last days on the earth.
There is something tremendously holy about being present during the dying process of a saintly, peaceful person. It has been a sacred experience. Heaven has come down and touched the earth in that pretty, pale yellow hospice room.
As Mema's body has weakened, her spirit has grown stronger. I've witnessed the power of God over and over again during my daily visits on these consecrated days. Without the ability to speak words any longer, Mema has opened her eyes and smiled at me numerous times as I've spoken to her and prayed over her. I've known it's her way of responding to me non-verbally.
While sitting near her bed in the hospice room, her eyes have opened and she nodded her head at times as I've spoken to her and caressed her hair. I think my favorite moments this week were when her face lit up brightly and she blinked distinctively each time I said, "I love you." It felt as though it was her way of saying, "I love you, too."
The nurses and doctors have been very compassionate and listened as I shared my heart and said, "She's ninety-five, almost ninety-six years old and she's ready to go. I can't complain about Mema's soon passing," It was September, 2013 when Mema told me: "I am ready to go any time; I've had a really blessed life." God began preparing my heart then and gave me two and a half bonus years to savor.
There's a part of my heart that wants to hold Mema here on the earth, but in my spirit I know it's her time to go. I'm letting her go with my heart enveloped in an indescribable peace. Jesus is holding my heart in His hands while He's holding Mema in His arms simultaneously. I am praising Him for making Mema's life and her death so beautiful.
My heart is filled with gratitude for the countless visits with her—especially during the past five years. During these final days, I'm honored to help bring her comfort through her time of transition. Today, I can imagine the angels are singing the "Hallelujah Chorus" over the soon homecoming of my sweet grandmother.
"We don't focus on the things that can be seen but on the things that can't be seen. The things that can be seen don't last, but the things that can't be seen are eternal."
— 2 Corinthians 4:18