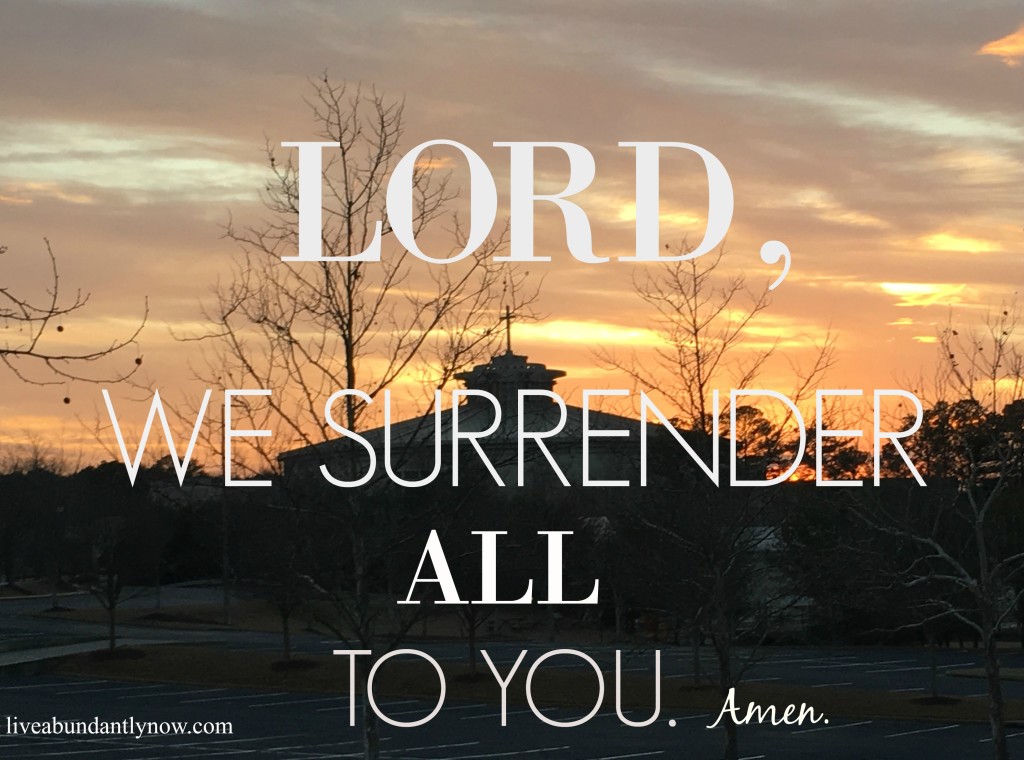 As I laid my head on my pillow one summer night years ago, my mind was clouded with worried thoughts. It was the only time in my life I ever felt anger toward God. Jesus, I'm mad at You.  Jesus patiently listened as I poured my heart out to Him.
I was questioning the Lord while my husband was facing another season of unemployment. Why are You allowing this to happen again, Lord? After several minutes of wallowing in my pity party, I fell asleep.
I woke up eight hours later with a new attitude. How ridiculous for me to be mad at Jesus. He's the only one who can truly rescue us from the difficult challenges. Being mad at God will only make things worse.
After realizing how silly I was for being mad at Jesus, I prayed, "Lord, forgive me for my silliness. Please forgive me for being mad at You."
It was in that precise moment that I arrived at the end of myself. I prayed, "Lord, I surrender everything to You. I will do anything You want for me to do or go anywhere You want for me to go."
Prior to that moment, my fear of losing my home was holding me back from surrendering all to Christ. In the previous decades, I had surrendered parts of my life to Christ, but this was total surrender. It was the last time I ever tried to do things my way, without Christ's help and guidance.
With a serious heart and a little bit of humor I told Christ, "You can have my house, all my material possessions, even my closet full of clothes, but will You please leave me one outfit?"
Obviously, I knew that Christ was not going to leave me destitute with nothing to wear, but I wanted to lay everything down. I was more serious than ever about following Christ's will and no longer living controlled by my own will.
Christ rewarded my seriousness in the form of a great miracle. Amazingly, about two weeks later, my husband was offered a job that ultimately led him to his dream job and far exceeded any of our expectations. Miraculously, my fear of losing our home subsided and we are still living in our house after thirty years. Keeping the house was no longer more important than following Christ, so He helped me keep it.
There is something mysterious about totally surrendering to Christ. It's as though our submission to His will opens the door to the supernatural realm.
When we place Christ as the highest priority in our lives, then miracles begin unfolding left and right.
I'm a work in progress and I do not have this journey of following Christ figured out, but I can testify that total surrender is the key to the door that leads to abundance and never-ending joy. Disappointments have absolutely no power over us when we live with a surrendered heart moment by moment. When desiring nothing but Christ's will, we see His glory in greater ways and we are free to live in His abundant peace eternally.
Dear Heavenly Father,

We come to You with gratitude and we thank You for Your never-ending grace, mercy, and love. We surrender every part of our hearts to You and ask You to guide us in everything we do. Let us pray without ceasing and let our relationship with You be the most important part of our lives. Help us to grow spiritually every day and let us look to You for every need. Let us make a difference in the world every single day and let us share Your love in countless ways to those who are hurting. Fill us with bold faith and let our prayers shake the heavens and bring down the dark forces that seek to devour us. Let us arise as powerful, mighty warriors and let Your glory and light shine brighter than ever in all of us so that multitudes of people will come into Your kingdom. We trust You to keep Your hand upon our families and our nation and we wait expectantly for You to reveal Your glory in greater ways in 2017. We pray in Christ's name. Amen.

"Then he said to the crowd, "If any of you wants to be my follower, you must give up your own way, take up your cross daily, and follow me."

May you have a blessed year in 2017!

XOXO,

Amy