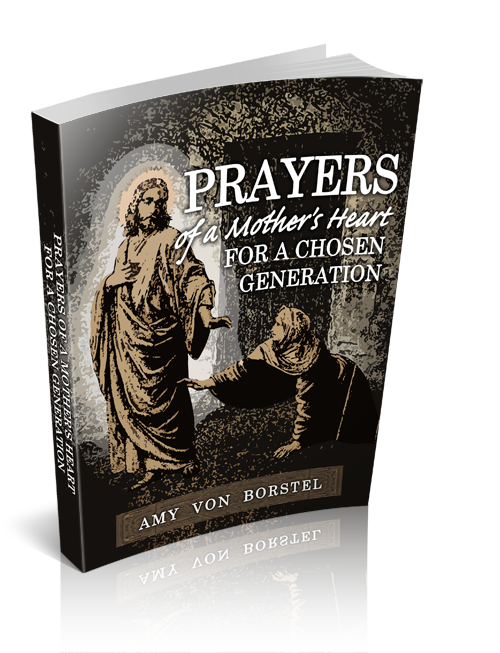 Prayers of a Mother's Heart is available as a Kindle book and can be purchased at Amazon.com for 99¢.
Read what people are saying about the Prayers of a Mother's Heart eBook.
"Today's prayers impact tomorrow's lives. Every mom will gain insight into the power of a mom's prayer by reading this book."
—Ken Davis, Best-selling Author, Motivational Speaker, President of Dynamic Communications International, and Host of Lighten Up! —a radio show heard on over 1500 radio stations around the country.

"I am so excited to recommend this book to every mom, dad, grandparent, teacher, friend, and anyone who is concerned with the welfare of children. This book is a timely and powerful antidote to the endless hand-wringing and worry about raising our children in this age of increasing darkness and danger. As much as I loved Amy's inspiring testimony of the power of prayer in her own life, I was absolutely blown away by her prayers. As I read them, I felt as if I was reading holy writ. These prayers are God's prayers for our children. I pray that they will be prayed over millions of children all over the world in the days ahead.  I pray that they will be prayed over your own children.  I will be praying them over mine."
—Lisa Hankins, Sponsorship Coordinator, Hands of Love USA, Contributing Writer for www.nbs2go.com, a ministry calling women to lead Bible studies in their neighborhoods, and Leader of Moms in Prayer at King's Ridge Christian School.

"As a librarian and avid reader, I'm a huge fan of this work for its superb writing and easy readability. As a Christian, I sense a strong anointing on this author's life and find her to be of great spiritual depth and highly relatable as a fellow sojourner. As a mom, I will go so far as to say that this book is one that we as parents cannot and must not do without. I seldom re-read books, but this is an exception. I'm positive I will revisit this excellent work many times in the years to come–in fact, I already have. I cannot articulate the ways in which my prayer life has deepened because of the life-changing words in this book. I'm a better mother as a result, and I'm so thankful the Lord saw fit to place Prayers of a Mother's Heart in my hands."
—Amy Lanier, Writer and Blogger
If you knew that your prayers could change the lives and futures of your children or grandchildren, would you pray regularly? Prayers of a Mother's Heart is a hope-filled resource for those desiring a life of prayer and for those desperate to see Jesus move mountains in their children's lives.
Amy von Borstel provides twenty-six heartfelt prayers as inspirational examples, along with several personal stories testifying of the transforming power of prayer, over ninety-five Scriptures, simple guidelines for preparing the heart for prayer, a chapter on the importance of generational blessings, and a chapter on prayer journals.
Be inspired by Prayers of a Mother's Heart to begin trusting that Jesus truly holds the answers to the challenges in your children's lives. Jesus promised He would do the impossible if only we would believe (Mark 9:23). A portion of this book's proceeds will be used to assist orphans in need at Hands of Love orphanages in Uganda, East Africa. To learn more about Hands of Love, visit their website: www.handsofloveusa.org.