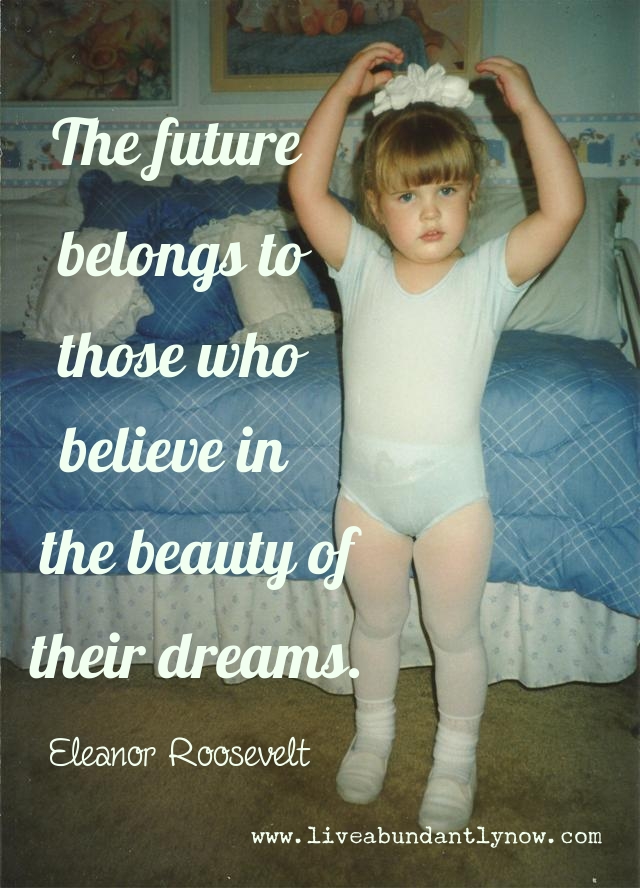 Every little girl and little boy has dreams in their hearts. God places those dreams there for a purpose. He knows their dreams will someday be the fuel that pushes them into their destinies. When I was a child, my heart was filled with dreams.
My imagination was limitless. I would spend hours pretending and dreaming elaborate plans for my life. A dream that is very prominent in my mind is my dream of dancing. I have vivid memories of myself as a young girl dancing and choreographing routines that I hoped I would share with others some day.
Somewhere along the way my dreams were stolen—snatched away from me and replaced with doubt. By the time I was nineteen years old, my heart became disillusioned and I dropped out of my dance classes and stopped dreaming. Then I entered adulthood like a dead man walking, blindly feeling my way through life.
It wasn't until I was in my thirties that I realized there were dreams hiding deep within my soul. It was during a church service when a dream from childhood was slightly awakened. A pastor in my church laid his hands on me to pray and began speaking prophetically over me. He spoke of how he saw a vision of me teaching little girls to dance. I had never shared anything about my childhood dream for dancing with that pastor nor with anyone associated with that church. Only God could have shown the pastor those things about me. After-all, I wasn't even aware myself of the dream—one I had long forgotten.
My dream for using my ability to dance was completely dead, and a pastor's words ignited a spark buried deep within me. That message from God needed to incubate for a period of time in order for the dream to be fully awakened and released in my life.
Several years later, the prophetic words proclaimed over my destiny came to fruition in the most unexpected way. While interviewing for a part-time job with a company called, Creative Movement and Dance, I was offered a position to teach ballet to little girls.
The fascinating thing about the job offer is that I had not applied for a dance instructor position. I had responded to a Craigslist ad for an instructor specializing in sports skills for preschool age children. I worked part-time for years at a children's gym and worked in elementary schools as an etiquette instructor, but I had absolutely no experience in teaching dance.
My soon-to-be boss, Heather, shared with me that she had accidentally booked two dance classes during the same time slot. She explained, "I can't be in two places at the same time, so I need to hire a dance instructor." I adamantly and kindly replied, "I'm not qualified at all for teaching dance."
She kindly responded with words something like this: You have many years of experience with teaching children and years of being a dance student. I am certain you are qualified. I was stunned. I left the interview that day still uncertain about accepting the dance instructor position.
A few days later, during a phone conversation, Heather said, "If you don't accept this dance instructor position, I'll have to cancel the class." Instantly, I knew it was a scheme by God to get me in this position with a corporation that had talented instructors with degrees in choreography and dance. While letting go of my fears, I enthusiastically said, "Yes!" to Heather because I knew that only God could orchestrate something so amazing.
I was thinking, "How could someone like me with no credentials for teaching dance be presented with such a great opportunity?" God had miraculously opened a door for me to live out my dream and I began teaching dance. After decades of lying dormant, my passion for dance was fully revived.
The dance instructor job was miraculous in more than one way. It fit into my schedule as a mom. My children were taking classes two days each week at a hybrid type of school for home-schooled students. I was able to work during the days they were away from home. Additionally, the job served as a very fulfilling and refreshing way for me to earn money, and it complemented my other part-time work during the years my husband was unemployed and attending college.
I loved teaching dance so much that I would have happily done it for free. It was a "dream" job in every sense of the word. With much gratitude, I worked for Creative Movement and Dance for six years (five of the years as a substitute teacher) until after my husband earned a Biomedical Engineering degree and began his new career. Once Michael was settled in his job, he persistently encouraged me to quit the dance job, so I could focus solely on an even bigger childhood dream: writing inspirational stories.

The day I started dreaming again was the day my heart came alive. My renewed ability to dream enabled me to wake up each day with extravagant expectation from God, fully living and hoping. My dreams push me forward and compel me to do brave things. Since I've tasted a dream fulfilled, I can't imagine life without hoping for more.
Do you believe there are dreams buried within your heart that need to be awakened? Begin praying today for Christ to reveal your dreams to you. There are ways we can dig for the treasures God has placed in our hearts.
1. Surrender everything to Christ and pray that He will reveal His dreams for your life. Set aside a time to be quiet and search your heart for the unfulfilled dreams buried deep in your soul.
2. Start a "Dream Journal" to record your deepest desires and passions. Making a record of your dreams will serve as a reminder to keep pressing on in pursuing what seems impossible.
3. Form a network of positive people who will listen, encourage, and support you in your dreams. Be cautious in choosing people to share your dreams with. Some people will try to sabotage your efforts to dream again.
4. Be bold and courageous. Don't let the fear of failure stop you from going after your dreams. Failure can be a good thing. With every failure, you will learn and grow.
5. Take steps toward your dreams by taking classes or joining a group. Signing up for an art class, joining a writer's group, singing in a choir, taking dance or music lessons, enrolling in college for the 2nd or 3rd time—any of these things could lead you to the next step toward a fulfilled dream.
Renewing the ability to dream ignites passion in our hearts, allowing us to have clarity and purpose for our lives. We are never too old to dream. Where there are no dreams, there is no life.
Proverbs 13:12 says, "Hope deferred makes the heart sick, but a dream fulfilled is a tree of life." Let your heart come alive by asking Christ to resurrect your buried dreams.